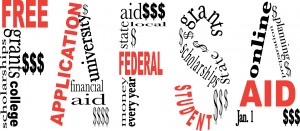 Are you planning to take college classes this fall? Are you wondering how to pay for college? If so, you can begin the financial aid process now by submitting the 2016-17 Free Application for Federal Student Aid (FAFSA), available as of Jan. 1. The FAFSA is the application used to obtain all types of federal financial aid, some types of state financial aid and many scholarships, too. Everyone planning to enroll at a college or university should complete the FAFSA. Even if you think you, or your family, make too much money to qualify, apply anyway! Most people qualify for something, and you may be pleasantly surprised by the results.
It's important to submit the FAFSA as soon as possible each year. Why? Because some financial aid programs that require FAFSA information, including some grants and scholarships, have deadlines early in the year. You don't want to miss out on any financial aid opportunities.
Not sure where to start? Check out our video to learn how to complete the FAFSA in Five Steps or download our FAFSA Five Steps brochure.
And, remember to visit at UCanGo2.org  and facebook.com/UCanGo2 for the latest college planning information, scholarship updates and more!
Please note, the 2017-18 FAFSA will be available Oct. 1, 2016.