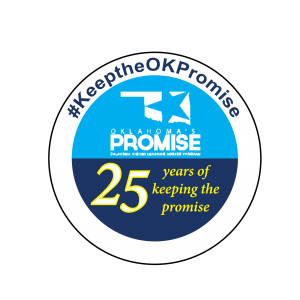 Oklahoma's Promise allows eighth-, ninth- or 10th-grade students from families with an income of $50,000 or less to earn a college tuition scholarship. Family income may not exceed $100,000 at the time the student begins college and before receiving the scholarship. Students must also complete a specific high school curriculum, achieve at least a 2.50 GPA in the curriculum and overall abide by certain conduct requirements in high school.
On Tuesday, April 18, Oklahoma's Promise will hold a rally at the State Capitol to celebrate the program's 25th anniversary. Please join us to show appreciation for Governor Mary Fallin and the Legislature's ongoing support of the Oklahoma's Promise program and to encourage elected officials to continue to protect the program's dedicated funding source.
The rally will be held at the Oklahoma State Capitol, first floor rotunda at 12:30 p.m. A reception will follow on the fourth floor rotunda at 1:30 p.m.
Email okpromiseday@osrhe.edu to confirm you will join us for Oklahoma's Promise Day!