April 1 is famously known as April Fool's Day, but the information provided below is no joke! Make sure you're following these tips to keep your college planning on track!
A – Apply
The word apply means many things as you plan for life after high school. Do some research and apply for:
Scholarships. Scholarships are available to students as early as elementary school. You just have to remember that it's YOUR responsibility to apply for as many types of free money as possible, all the way through your college graduation.
College/Career Technology Center. Find out which type of educational institution is the best fit for you and apply for admission.
Internships. Internships give students the opportunity for career exploration and development, and to learn new skills. Apply for an internship today.
P – Prepare
Take some time to review your to-do list and make sure you've made all the preparations needed to advance your college planning tips. Check out the Prepare tab on UCanGo2.org for helpful information.
R – Review
If you haven't submitted your most recent scholarship applications, review them! Proofread essays and paperwork you plan to submit when preparing for college. Just one typo on a college or scholarship essay could ruin your chances of winning!
I – Independent
When you complete the Free Application for Federal Student Aid, or FAFSA, your answers will determine your eligibility for federal and state financial aid. These responses will also indicate if you'll be considered a Dependent or Independent student. Review our Dependency Status Questionnaire to determine your status for the upcoming 2022-2023 academic year.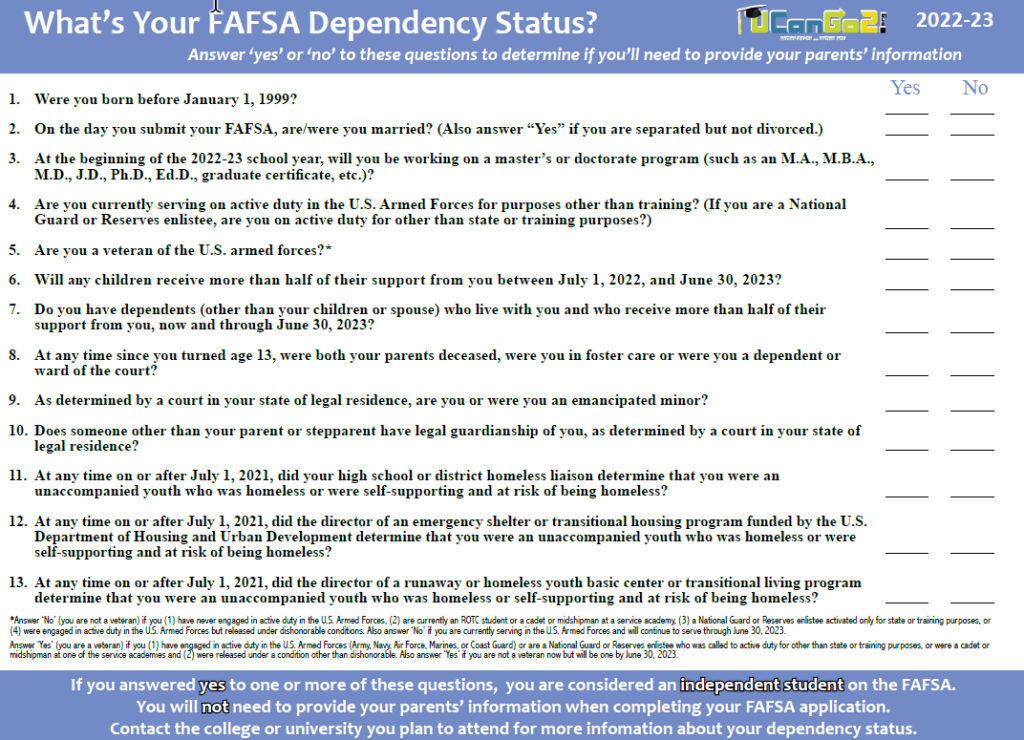 L – Letters of Recommendation
Many scholarship and college applications will require you to submit letters of recommendation. Ask for these letters from past employers, teachers or friends early in the process so you don't miss deadlines.