FAFSA and Financial Aid
Learn more about the FAFSA and how it affects financial aid in our new video!
Scholarships 101
Learn more about scholarships and financial aid in our new video!
The FAFSA is available!
Watch this video from former Gov. Mary Fallin to learn about the Free Application for Federal Student Aid  (FAFSA) . Captions available on our YouTube Channel.
Watch our FAFSA Tutorials in English and Spanish
Not sure how or where to start in the FAFSA process? Grab your headphones and push play on these short FAFSA videos produced to help you better understand the process. About five minutes in length, these videos provide an excellent overview of the entire process, from what documents you'll need to what happens after you hit submit.
English Video, The FAFSA in FiveTM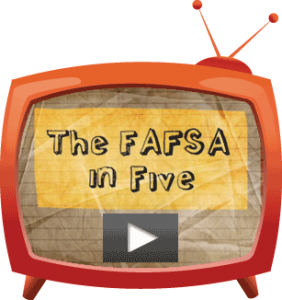 Spanish Video, La FAFSA En 5TM