Has something changed since you submitted your most recent FAFSA? The most common changes tend to be updating demographic information or adding a college to the list of schools you provided on your FAFSA. Here are the basic steps to take to make any changes or corrections.
At StudentAid.gov:
'Log in' with your FSA ID (Username and Password)
On the 'My FAFSA' page, select 'Make Corrections'
Create a Save Key
Go to the section of the FAFSA where you need to make the change, then update your information
Be sure to 'Submit' your information when you're finished
There are some changes that may require help from a financial aid officer at your college of choice. For these changes, be sure to have the Data Release Number (DRN) from your Student Aid Report (SAR) handy. Don't ever give financial aid personnel your FSA ID, which also serves as your unique electronic signature. Changes made by a financial aid officer may include: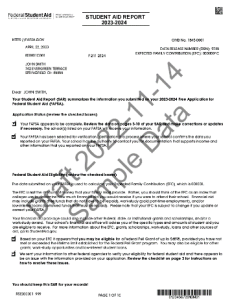 Name change – you will need to supply documentation showing the new name.
Change in marital status – notify your financial aid office and ask them what steps you should take.
Change in your financial situation – a decrease in your income since you filed your recent FAFSA may increase your eligibility for some types of financial aid; be sure to have proof of your current income with you.
Note: Tax return information you requested through the IRS Data Retrieval Tool (IRS DRT) cannot be changed. If you or your parents filed a Form 1040-X (an amended return) after you filed your FAFSA, notify your financial aid office.
Correcting your Social Security Number (SSN) is a little more complicated:
Federal Student Aid recommends you submit a new FAFSA form, being sure to use the correct SSN. Be aware of deadlines for FAFSA submission imposed by various entities (scholarship applications, school deadlines). Then inform you financial aid office of the change you made, OR
You can ask the financial aid office at one of the schools on your SAR to make the change for you. They must see proof of your correct SSN. OR
Contact the Federal Student Aid Information Center and ask for a paper copy of your SAR. After you receive it in the mail, cross out the old SSN and write in the new, then return it to the address listed on your SAR.
For more information about FAFSA changes and corrections, see https://studentaid.gov/apply-for-aid/fafsa/review-and-correct/correct#how-change.